The importance of a complete and accurate employee file is equally as important as organizational corporate records. Documentation is the written and retained record of employment events. These records are comprised of government and legally mandated documents, documents required by organizational policy and practice, documents suggested by best human resources practices, and formal and informal record keeping about employment events.
An employee's record of documentation is a written account of his or her actions, discussions, performance coaching incidents, witnessed policy violations, disciplinary actions, positive contributions, reward and recognition, investigations, failure to accomplish requirements, goals, performance evaluations, and more.
Think of employment documentation as the history of an employee's relationship with your organization—for good and for ill. Keeping accurate employee files are necessary and beneficial to your organization if and when any State or Federal government agency or payer shows up on your door-step for a surprise visit.

QPI monitors and maintains the following elements inside the Human Resources Lavear Web Portal. This allows for real-time reporting from Lavear's access tabs.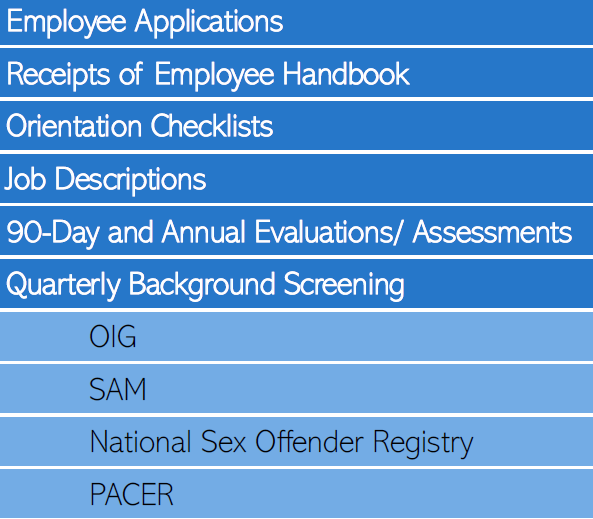 Know who works for you. Ensuring that your employees, including contracted staff, maintain documentation can lead to additional security measures for patient safety.
Often, employees, including contracted staff, are only required to disclose final adverse legal actions, such as felonies, misdemeanors, sanctions, revocations or suspensions, at the time of hire. Accreditors and payers require healthcare providers to conduct federal background screenings to include OIG, SAM, National Sex Offender Registry and PACER.
At QPI, we understand that employees or contractors may not disclose post employment events. We also believe that federal background verifications that are only conducted annually could put your organization at risk. Thus, we conduct quarterly background verifications for all healthcare organization owners, employees, contractors and vendors. Subsequently, all adverse findings are communicated with you immediately for intervention, clarification or even termination.
Mandatory education modules are designed to retain the focus of the employee. Modules are not designed for "pass/ fail," but rather to fully educate employees proper techniques for safety and quality. Upon employees' annual completion, certificates are posted in their Human Resources file in Lavear.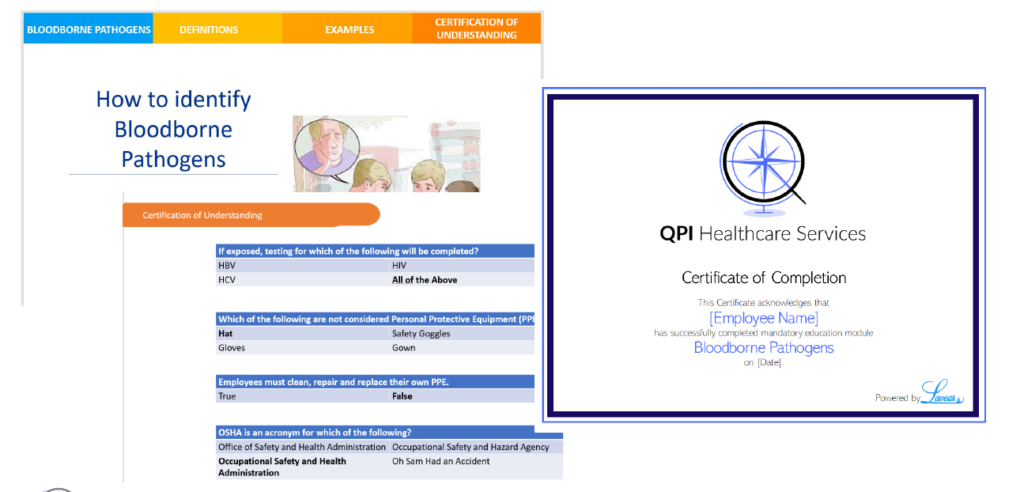 Education for Licensed Independent Practitioners (LIPs) doesn't stop at Mandatory Education. If we are to believe Socrates, our educations are merely the kindling of an eternal flame. Keeping the fire going and recognizing the hunger for knowledge empowers compassionate healthcare providers to do the right thing by their patients.
At QPI, we understand the risk that healthcare organizations face when LIPs fail to complete continued education for licensure renewal. Tracking continued education and ensuring licensure renewals are our priority. For assured patient safety, all adverse findings are communicated with your organization's leadership team immediately for intervention, clarification or termination.
Credentialing for Individuals

Licensing is a formal process that utilizes an established series of guidelines to ensure that patients receive the highest level of care from healthcare professionals who have undergone the most stringent scrutiny regarding their ability to practice medicine. This assures the patient that he or she is being treated by providers whose qualifications, training, licensure, and ability to practice medicine are acceptable. QPI works with providers and organizations to maintain state and federal licensure renewals. Additionally, QPI works with providers to obtain and maintain privileges/ affiliations with local hospitals, etc. Credentialing ensures that all healthcare workers are held to the same standard. QPI monitors, obtains, and maintains all credentials for accuracy and continued care for uninterrupted patient care.