HARP Light Technology - Lavear
Lavear essentially develops and deploys the management of six different healthcare practice departments into one logistic Software Platform.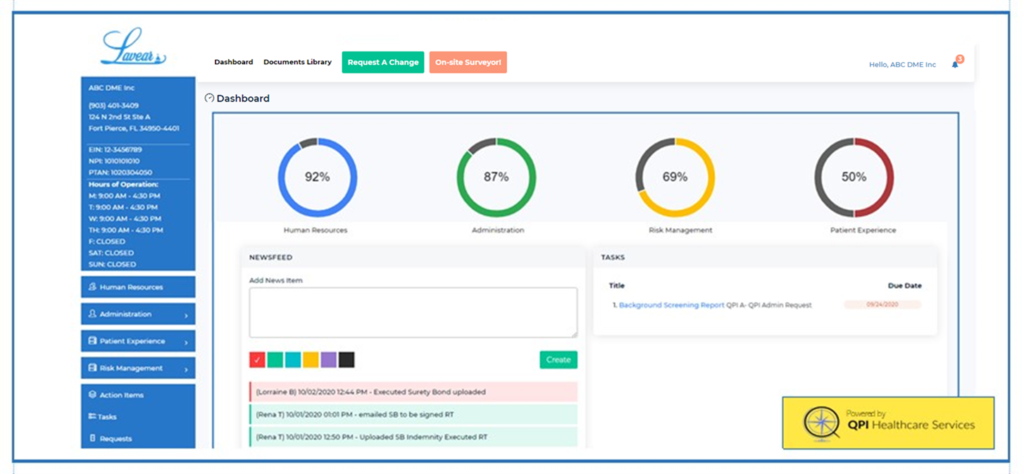 Through our software, Lavear, healthcare providers are able to monitor compliance in real-time. Our program provides sophisticated and automated push-technology to our clients as means to collect and analyze measurable performance improvement data. Our logistics include key performance indicators that fluctuate based on quality weights and measures. HARP Light Technology allows healthcare providers to pinpoint success and focus on exceeding expectations.
QPI provides clients the expertise in management by utilizing a multitude of factors and "What If" technology to maintain compliance with the Centers for Medicare and Medicaid Services, Office of the Inspector General, pay-for-performance incentive programs, and more.
The days of adopting a voluntary compliance plan are rapidly drawing to a close. The Patient Protection and Affordable Care Act, enacted in January 2017, mandated that healthcare providers who are enrolled in Medicare and Medicaid adopt an every-day-use health care compliance program.
Compliance plays a vital role in promoting integrity within the health care system. Why is healthcare compliance important? Failure to comply with state and federal laws and regulations may delay payments, impose sanctions, deactivate billing privileges, and adversely affect patient safety.
Do the Q! with HARP Light Technology's Human Resources department. Your dedicated team will manage, monitor and maintain your employee files, credentialing for licensed professionals, evaluations, assessments, mandatory education and you may participate in our in-house continuing education classes customized to your practice.
Do the Q! with HARP Light Technology's Administration department. Your dedicated team will manage, monitor and maintain your corporate records, insurance credentialing, Audits of Electronic Medical Records, HEDIS, Billing and Coding and we prepare your practice to participate in MIPS – Merit Based Incentive Programs.
Do the Q! with HARP Light Technology's Risk Management department.  Our in-house Certified Healthcare Risk Manager will develop and deploy a customized Risk Management Department that is best suited for your practice.  This development includes:  Fraud, Waste and Abuse, STARK, Anti-kickback, facility assessments and evaluations and more.
Licensing, Privileging, Enrollment & Credentialing
Licensing is a formal process that utilizes an established series of guidelines to ensure that patients receive the highest level of care from healthcare professionals who have undergone the most stringent scrutiny regarding their ability to practice medicine. This assures the patient that he or she is being treated by providers whose qualifications, training, licensure, and ability to practice medicine are acceptable. QPI works with providers and organizations to maintain state and federal licensure renewals. Additionally, QPI works with providers to obtain and maintain privileges/ affiliations with local hospitals, etc. Credentialing ensures that all healthcare workers are held to the same standard. QPI monitors, obtains, and maintains all credentials for accuracy and continued care for uninterrupted patient care.
Do the Q! with HARP Light Technology's Patient Outcomes department. Your dedicated team will manage, monitor and maintain your Positive Patient Outcomes and Reporting processes. Once we develop and deploy your CGCAHPS program you will start seeing immediate positive results. This means more revenue!
Quality Measures is something to know about as it impacts both healthcare providers and insurance companies, and in turn, the patients they serve.
Quality Measures is a government measurement tool used by most of America's insurance companies to gauge how insured patients are being cared for.  Insurance companies receive a score from the government, with significant Medicare financial incentives for providers and insurers if a score exceeds certain thresholds.
The premise behind Quality Measures is simple. Quality Measures rewards preventive care, a major focus of the government's new healthcare system. The concept is that by increasing preventive care, the number of overall doctor visits drop as patients begin to experience better outcomes.
QPI tracks Quality Measures data by utilizing HARP Light  Technology. Our system of weights and measures include conducting: